---
Located in a small quiet village around 15 to 30 minutes from Haeundae, Cheolma Garden is a great hanu restaurant with undeniable charms.
Nestled in the countryside, the wife prepares food while her husband prepares the charcoal.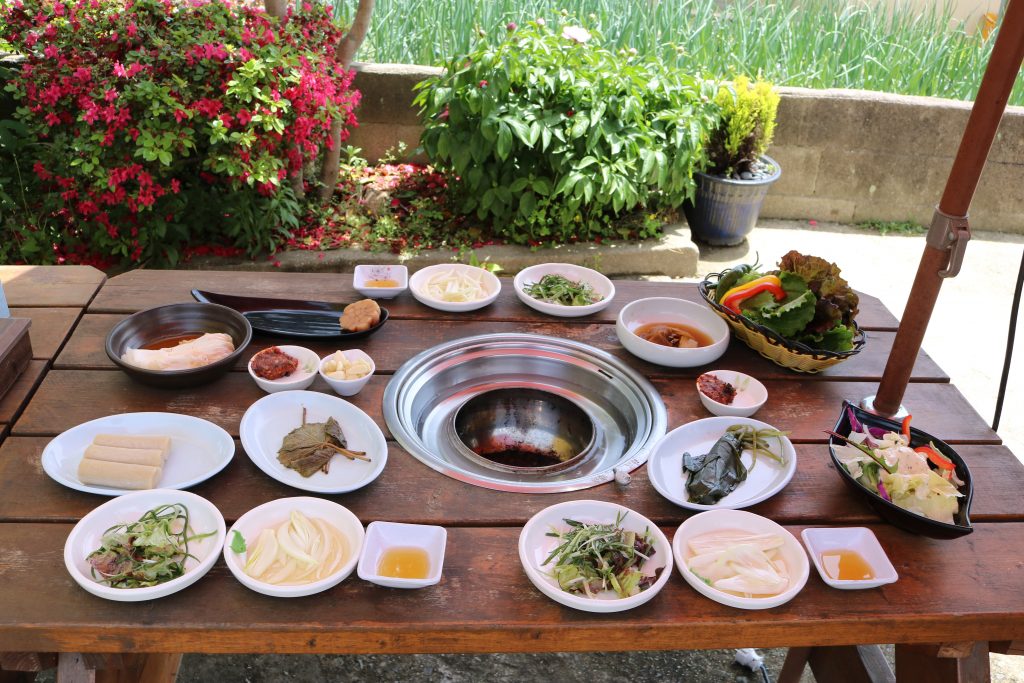 The side dishes are homemade and delicious. Even the ssamjang (paste sauce for food wrapped in lettuce) is homemade, too. Their doenjang-jjigae (beanpaste pot stew) is somewhat tough and spicy and it tastes awesome. I usually have yukhoe (raw beef with pear and sesame oil, small-size is 25,000 won, large is 35,000 won) as an appetizer at this place. Their sesame oil smells and tastes exceptionally rich and it makes their yukoe more special. And their main, hanu, which you cook yourself on the charcoal, is beyond words delicious.
Hanu beef is 22,000 won to 25,000 won per serving depending on the part and assorted hanu is 24,000 won (per portion, 120g). I eat a lot and love hanu, so I usually order double portions or double plus one more portion.
You can order doenjang-jjigae with rice (2,000 per person) or naengmyeon (cold buckwheat noodles, available only during summer, 4,000 won).
They also have several kinds of alcohol. I usually have Bokbunja (made from Korean black raspberry, 10,000 won).
They tried to keep the original house (hanok) with three rooms and it is cozy inside the room, which still has air conditioning and floor heating. But when the weather allows, I prefer the outside picnic table. For a bigger group, there is an indoor dining area in another building.
Parking is available across the restaurant. Reservations are recommended.
---
Restaurant Information
Cheolma Garden (철마가든 정육점)
Open: 11 am – 9 pm daily (except 2nd and 4th Wednesday's)
Address: 334-1, Wayeo-ri, Cheolma-myeon, Gijang-gun, Busan
Phone: 051-722-6767
---