---
For many of us, Korea is just too damn much fun. We live fast and hard and wild and keep responsibility at an arm's length, putting it off until the eventual migration home, where we skulk back into the confines of 'real life' and go about finishing that graduate degree, buying a house and getting a civilized job. In other words: Squaresville.
Newfoundland native Brian Aylward, however, chose a different path. Sure, he put in his time teaching ESL here on the peninsula and partied harder than 100 ajeosshis, but when he felt Canada pull him back, he heeded the call, eschewing grad school and that job in HR in favor of a much more solid, traditional career choice: he became a professional stand-up comedian.
Aylward actually began doing comedy here in the Land of the Morning Calm, where, on a bet, he stepped up to the mic for the first time in 2005. He went on to start Stand Up Seoul in 2009 and wrote a humor column for Groove Magazine.
Things blossomed from there. In 2008 he was the runner-up in the Hong Kong International Comedy Festival and, since returning to Canada, he was named "Halifax's Funniest" in 2011, was the Newfoundland winner of the 2011 Yuk Yuk's Great Canadian Laugh Off, and was a finalist at 2011 XM Radio's Canada's Top Comic. Brian has performed in festivals around the world, and has also been featured on CBC Television, CBC Radio's Laugh Out Loud and XM Radio's Laugh Attack.
I recently talked with him about his current Asia tour and upcoming return to Korea.
---
Do you feel like a proud papa coming back to Korea on tour and seeing how much comedy is going on?
Absolutely. I can't wait to get back and see old faces and lots of new ones. I remember being the only English-speaking comic in Seoul and telling jokes and stories onstage at Ole Stompers on Hooker Hill, after midnight, between metal bands. Stand Up Seoul is going strong and I love that. Can't wait to be back. The Ha-Ha Hole in Busan. Beauty. The expat community in South Korea is incredible. North Korea, not so much. I love those South Korean streets. Korea and my comedy career are intertwined.
Describe your lamest gig.
It was at an art gallery in Seoul. It was called The Passport Show–bringing awareness to human rights and a declaration of universal citizenship. The place had a Picasso. I get there and on stage is a man, a North Korean defector, who is telling stories and describing horrific things he endured or witnessed, while using pantomime (…torture, hangings, decapitations, eating corn kernels out of cow shit, etc.) while it was being translated for a stunned crowd in a small room of about 40 people. After the North Korean man stopped speaking, the host went up on stage and says, in his Belgian accent: "Ladies and gentleman, sometimes the world can be a very cruel place. That is why we need comedy. Everybody, say hello to Brian Aylward.
Describe your best gig.
A 49-minute headline set at Yuk Yuk's Comedy Club in Halifax, Nova Scotia. I was happy enough with it that it validated my hard work up to that point and it was a moment where I truly realized that I can do this for a living.
If you could intravenously inject ham, would you?
Yup. Even into my toes, if necessary. Until both feet looked like ham loaves. Then, I would invite my family over, put my feet up on the table and say, "Enjoy."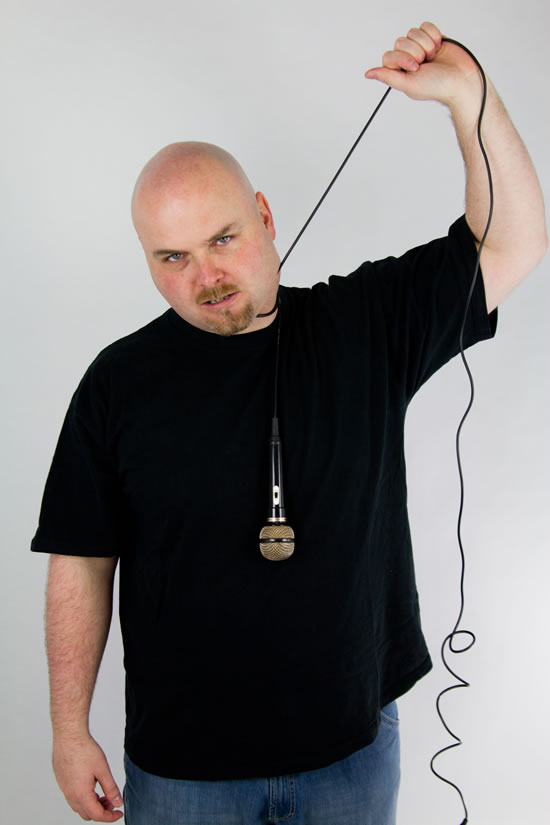 Do you have any good observational jokes about airline food?
Airplane food tastes like relationship jokes.
Can you eat kimchi with chopsticks?
I eat kimchi with my fingers, like a Japanese savage.
What is your opinion of soju?
It was needed to wash down the dog.
What do you think of guys who date Korean girls who speak no English?
I think it's great. Relationships are about communication and how you handle money. So, dating an English alphabet-challenged Korean woman, while on the run from responsibility is a perfect recipe for romance. Plus, being called "handsome" 38 times a day is great for any man's self-esteem, right?
No, on second thought. Dating an attractive Korean woman who is English alphabet-challenged is like dating a hot retard.
Canada Day is coming up. Why should Canadians celebrate?
Canadians should not celebrate Canada Day because Americans might find out that we have something of worth up here and then they will murder us.
What advice do you have for people whose friends tell them that they're funny and should be a comic?
I tell them to practice by crying while looking into a hotel bathroom mirror.
Why is it that 90 percent of hecklers are women?
Because the spotlight is like a bug light for dumb, drunk chicks.
Where do you see yourself in five years?
2017? That's far into the future, brother. By then, there will be a female US President, Magic Johnson will be dead, and Filipinos will be the tallest race of humans on earth.
---
After shows in Singapore, Cambodia, Malaysia and Indonesia, Brian Aylward will play seven shows in Korea, including two intimate gatherings in Busan, at Haeundae Sharky's on June 29 and HQ Kyungsung on June 30. Both shows start at 10 p.m. and are 10,000 won at the door.  
Check out his website at www.brianaylward.com or follow him on Twitter at @AylwardBrian
Photos by Devon Parsons
---
---